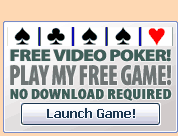 Video Poker Strategy Guide
What's the best way to play video poker? With a strategy of course! Many players believe in what their gut tells them to do, but not many of them can say that they've actually been successful at the game. The strong belief in gut feelings is partially developed by lack of knowledge and often lack of discipline. Who wants to sit there and remember a hundred different rules pertaining to the video poker strategy? Why not just push a few buttons randomly (or according to your gut) and see what happens. It is the easier choice, though not where your bankroll is concerned. There are all kinds of video poker players; some will learn the strategy prior to visiting a casino and others will simply want to try their luck. For those of you with a curious mind, I've put together a quick video poker strategy guide that outlines what to do (and not do) when playing the game.
As you may already know, video poker offers many options with each and every card draw. You can hold one card, two cards, or even the whole batch - the decision is yours. However, given the current hand you've been dealt, some decisions will offer better odds at getting a winning hand than others, and knowing that can certainly increase your chances significantly. That is called a video poker strategy.
Sometimes, you'll find yourself in a situation where it's difficult to make a decision. As you know, some card combinations are easier than others; however, the payoff also reflects the risk involved. In these cases where the decision is not quite clear, you should know the ranking system. This will allow you to play with the best odds at all times.
High Pair
Three-Card Royal
Four-Card Flush
Low Pair
Four-Card Straight
Here are a few ground rules that you should always follow as part of your video poker strategy:
Keep a pair (high or low) rather than keeping a high card, regardless of what the situation is (whether they are suited or connected doesn't matter). The pair gives you the best chance at getting a winning hand.



If you have no pairs, hold a maximum of two high cards that are above 10. If you have more than two high cards, for example an Ace, Queen and Jack, hold the Queen and Jack and discard of the Ace; this gives you a better chance at making a straight. However, if the Ace and Jack are suited and the Queen is not, hold the Ace and Jack for the best shot at making a royal.



Keep all five cards in a flush or a straight rather than discarding cards to go for a straight flush. The hands are already winners and what you could get by drawing another card is not worth the risk.



Break up a straight or a flush to try and get a royal flush. Although there is a bit of risk involved, the reward is well worth it. You may as well take the opportunity to win big.



If you don't have a low pair, a high card, a one-card draw to flush, a one-card draw to straight (open at both ends) or three consecutive, suited low cards, discard all five cards and draw new ones.