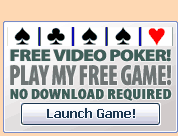 Video Poker Instructions
Video poker is a very easy game to play. If you aren't familiar with the game of video poker, I strongly suggest that you read the video poker hands section as well as that about video poker strategy first before you read this video poker instruction page. The first section will help you understand the rank of hands while the second gives you the guidelines for a good strategic play.
The rules for video poker aren't very complicated. Look around the casino floor and find a machine with a maximum bet that you are comfortable with. The way to go about choosing a machine that's right for you is outlined in the video poker tips section. Once you've made your choice, locate the coin deposit slot and get familiar with the layout of the buttons. Make sure to pay attention to the payout table so you can keep tabs on the amounts that you are receiving with each win.
When you are ready to begin your game, drop the coins in the slot and press the draw button (it could also be called start or deal). Analyze the hand that is displayed on screen and decide which cards you are keeping by pressing the corresponding hold buttons; usually, pressing a hold button twice deselects a card. Once you decision is final, press the draw button to replace the cards that you have chosen no to keep. If you have a winning hand, you will be paid according to the payout table.
And that's it; there's really no more to this game than what I have just told you. Keep in mind that these video poker instructions are applicable regardless of where you play, whether it's at a land-based casino or online. The games provided by most online casinos these days are quite advanced and mimic the casino machines quite well so you should have no problems using your knowledge to the other environment.